Create your own online tests and questionnaires – without any IT skills!
Individual assessments created with our Test Designer
Our Test Designer allows you to create your own questionnaires and tests in an individualized layout. Furthermore, you can create your own result reports.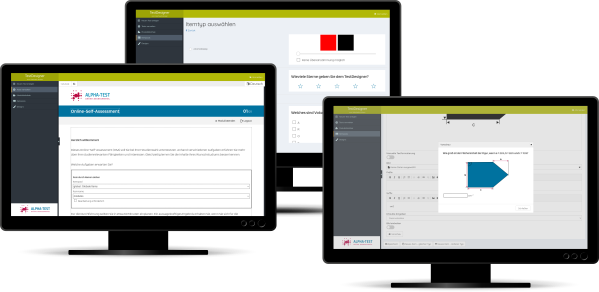 Increase the user experience
By including graphics, photos, audio or video files you can make your tests and questionnaires attractive and entertaining. About 20 different question and answer formats are available: e.g. multiple choice and cloze.
The Test Designer is used at several colleges and universities to develop programme-specific online self-assessments at low cost. No IT skills is required, the usage of our Test Designer is entirely self-explanatory.
For employee surveys or customer surveys, use our Test Designer light version. Using this slimmer configuration of the tool, you can quickly capture the current sentiment and evaluate the assessed data.