We're always looking for the best solution for your company
We have created requirement profiles for approx. 600 professions and developed our standard offers for apprenticeships on this basis. These can be booked within 24 hours: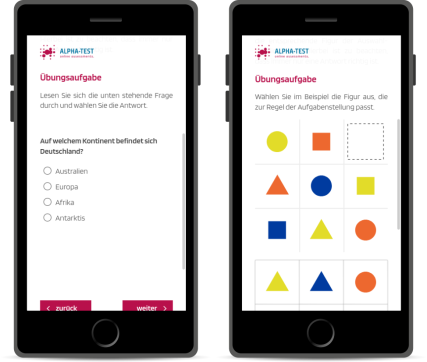 no initial costs
attractive package prices
incl. support
incl. management system* (package of 50 or more)
Corporations receive customized versions from us!
The requirements are defined and the appropriate test modules are selected during a workshop. In addition, we analyze your application process and look for the solutions that will save you the most time. This includes:
Interface to your applicant management system
A test layout in accordance with your Corporate Design
Your own subdomain
Individual configuration of the management system
Company specific tasks
Offline as well
After the first preselection has been performed online, many companies continue with assessment centers. We support you with
Development of tasks
Creation of time schedules
Implementation of observer training courses
On site moderation of the ACs by our psychologists
Attract applicants
high sphere of activity, more suitable applicants, enhance reputation, culture fit, corporate culture, self-selection through realistic insights, informed applicants through career orientation, tests that are fun and can be done on the road
Identify talent quickly
valid forecasts, integration into your existing HR systems, user-friendly for recruiters, all common occupations for industry, trade, finance and other services, 98% very satisfied to completely satisfied customers, less than 1% test dropouts, mobile, CD-compliant, savings calculator, real-time overview of applicant quality, results in real time, can be used globally
Recruit employees
meaningful online tests, interview guide, assessment center, consultation by our psychologists, requirement profiles, develop competence models, free paper retest, tablet optimized retests
Develop potential
Potential analysis, aligning career paths with potential, Development Center, Digitalized ACs, in English for international careers, 360-degree feedback, coaching, employee survey, mood barometer