Simple and efficient Data exchange
The alphaCore platform Integration Center enables you to easily create, execute, plan and monitor integrations. It simplifies the most common use cases for export and import, e.g. data exchange with your applicant management systems. You can create integrations quickly and easily via a guided workflow. Predefined templates are available or you can create your own templates as well. We have experience with the technical integration of our online assessments into existing applicant management systems, regardless of which system you utilize:
SAP-HR
Workday
Successfactors
JOBquick
Rexx
TalentLink
Umantis
BeeSite
Taleo
d.vinci
And other online systems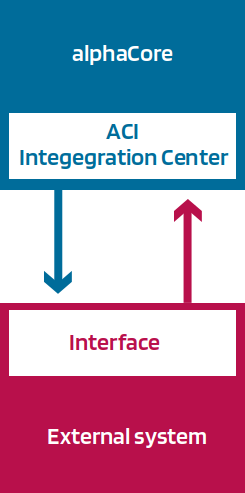 The ACI Integration Center supports a wide variety of formats and protocols
The Integration Center supports both file-based and Web services-based outbound integrations. For file-based integrations, the Integration Center supports CSV, TXT, and XML formats. For Web service-based outbound integrations, the Integration Center supports outbound SOAP and REST integrations. The Integration Center also supports CSV-based inbound integrations.